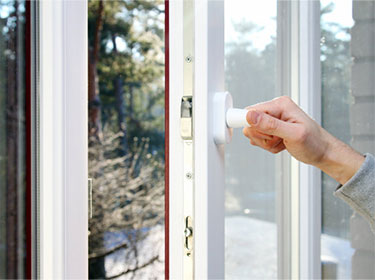 Tilt and turn windows open inwards to allow flexible ventilation. With a tilt turn window you don't have to have the window open fully to let air into your home. Opening it slightly, tilting into the room, provides the air flow required but with the additional benefit of security.
Tilt and turn window prices

uPVC tilt and turn windows are marginally more expensive than casement windows of the same material. This is because they have more complicated operating systems and locking mechanisms.
Tilt and turn windows have stronger internal hardware and multiple locking points, as well. That means tilt and turn windows offer a lot more safety and security against unwanted intruders.
More Secure
For a Tilt turn window to function it requires more robust internal hardware with multiple locking points. Additionally, the in-swing hinges further secure the window from being forced/pulled open from the exterior. The tilt position also aids in security while still enabling ventilation.